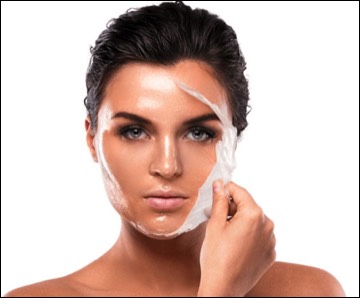 SKIN CARE - PEELS AND MICRODERMABRASION TREATMENTS
Chemical Exfoliants and Peels

Chemical exfoliation is a treatment that involves applying an acidic solution of either alpha hydroxyl acid or bet hydroxyl acid that affects only the outer most layer of the skin to promote a rapid exfoliation process, which allows healthy skin to emerge. No down time is required although the skin may experience mild sloughing.
Single treatment of Glycolic, Salicylic or Lactic - $65
Add to any facial treatment - $20
Series of 6 applied once a week - $300



Power Peels

These medium depth peels will affect the intra-epidermal layer of the skin. This treatment is great for those who want to address concerns with photo-aging, wrinkles, hyperpigmentation and mild acne. Skin will be smoother, more even toned and completely refreshed. Peeling of the skin will appear in two to three days after application and will consist of moderate to heavy flaking. Darker skin types may require proper skin care products to prepare the skin for peeling process.
5-Berry Peel or Vitamin A Peel - $95
Series of 6 applied once a week - $425
Add to any facial treatment - $35




7 Day Rejuvenating Treatment Peel
-
$245 (includes pre and post treatment and product)
A highly specialized Jessners peel that will help reverse the signs of aging; improve appearance of scars, deep lines and hyperpigmentation as well as to help treat congested skin or resistant, impacted acne. Recommended for those who have been receiving other clinical treatments and who want to take their skin improvement to the next lever of rejuvenation.
This treatment requires several days of tolerance as the skin flakes away to emerge renewed. A hydrating and exfoliating post-treatment is done 7-10 days later to restore and fortify the skin.

Clients who receive this service will be provided the proper pre and post care product to help achieve the best results. The skin will need to be prepared 2-4 weeks prior to receiving this peel and a patch test will be required a minimum of 48hrs before.

This treatment may be performed as often as once every 6 weeks if desired.



MICRODERMABRASION TREATMENTS


Microdermabrasion is a noninvasive, skin resurfacing procedure that gently exfoliates or polishes away the top layers of dead skin cells, while stimulating collagen growth, to reveal healthy new skin that lo9oks and feels smoother. Benefits include reduction in fine lines, brown spots, acne scars, minimizing of sun damage and reduction of pore size. Series suggested for best results. Treatment will include: cleansing the skin, microderm treatment, followed by appropriate serums.
Single Treatment 30min - $60
Series of 6 applied once a week - $320